Registration

Registration for 2018 is now closed. All sessions are sold out, so contact the retreat director through the contact form if you would like more information, or to be put on the wait list. Many writers get into the retreats via the wait list, so don't delay!

The retreat is for writing attendees only. Although it's not recommended on general principle, non-writing spouses can accompany an attendee, but they will not have access to the writing spaces, discussions, meals, or special events, unless arrangements and monetary considerations are made through the retreat director prior to the retreat.




*Registrations are refundable as long as slots can be filled from a waiting list, or--if the wait list is empty--the attendee can find a replacement. However, two weeks before the session, they become nonrefundable.


---

Eateries

The following is a list of eateries organized by distance from the retreat.

Salmon House Restaurant

On-site

Roosevelt Room (0.64 mile away)

South Shore Road, Quinault, WA

Quinault Internet Cafe (2.60 miles away)

6094 US Highway 101, Amanda Park, WA

Dino's Pizza & Grill (2.55 miles away)

Just a breath away from the Internet Cafe

---

The Resort

Learn more about the

Rain Forest Resort Village

, our host for the retreats.

The dates have been set for the 2018 retreats, and the Rain Forest Resort Village will once again host the event.

The resort will not take reservations.

The retreat director handles all reservations and room considerations, so don't call the resort for that purpose. The resort is sent the participant and room list closer to the retreats. They

will

give the off-season

weekday

rate to all participants for all four nights, including the weekend, when rates are higher.

The toll-free number for the resort is 800-255-6936

if you need information about the resort or room amenities.

Rain Forest Resort Village

516 South Shore Road Quinault WA 98575

---

---

Lodging

Lodging requests are handled by the retreat director and are on a first come, first served basis. This is confirmed only by payment. At registration, input your top choices for lodging in the dropdown menu, as well as information about whether you'll be registering for a room for only yourself, or a room for multiple people. Understand that very few cabins are available. Most retreat participants won't get one. Some have only one bed. Very few fit larger parties.

Off-site lodging exists for those needing an alternative. These places have not been researched by RWV staff, and the retreat director does NOT book these rooms. You would need to research those yourself and be in touch with the director so a room is not assigned to you at the Rainforest resort. (This is something that has happened before, having suddenly reserved multiple rooms in multiple resorts and not being able to get out of paying for one.)

Useful Information

Airport: Any guests flying in will arrive at Sea-Tac or Portland airports. That's as close as you can get by commercial plane. The resort is 3 hours from Sea-Tac, and 3 ½ hours from Portland.

Banks: The nearest banks are in Aberdeen / Hoquiam (twin cities), which you'll pass by before heading 48 miles north to the resort. The resort does accept debit and credit cards, as do most businesses in the area. After all, during the on-season, this is a resort hot spot!
Stores: There's a small grocery story on-site at the resort that has a "little bit of everything." A larger store sits at the foot of the lake on Hwy 101. The resort store also has a nice gift shop.
Gas Stations: A Chevron station sits across the street from the Lake Quinault Lodge, one mile away from the resort.
Hospitals: The nearest major hospital is in Aberdeen / Hoquiam. There is a medical clinic in Neilton, a few miles south of the south shore lake road, and is staffed by a PA and nursing staff.
Post Office: A US Post Office is on the resort site, next to the general store.
Landromat: The resort also has a laundromat, right next to the Post Office and general store.
Nature Trails: Several trails originate right next to the resort. Other trails start near the Lake Quinault Lodge a mile away.
World's Largest Sitka Spruce: This giant tree is right on the resort property!
Lake Quinault Drive: You can drive all the way around the lake, as long as roads are not flooded out. Much of the drive up valley is on a somewhat bumpy, twisty gravel road. You can find out more information from the front desk at the resort office.
---
Retreat Tips & Hints:
Optimizing Your Stay at the Rainforest Writers Village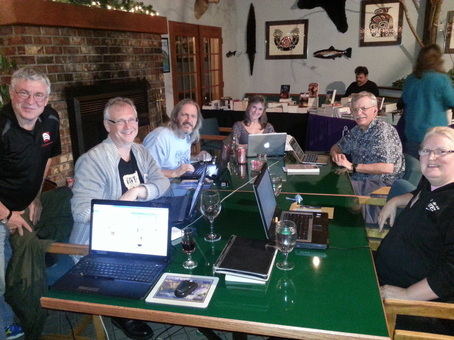 We're in the rainforest. Bring an umbrella (Or a good hat, or a good jacket). We've had snow before, too!

Hiking trails start very near to the resort. Bring plenty of layers, and a waterproof or water resistant jacket. Bring solid hiking footwear. Given the condition of some of the hiking trails, a walking stick could be very helpful.

Most of you will have laptops, so bring your power supply and cord in order to recharge from time spent in areas where outlets are scarce. Also consider bringing an extension cord or power strip, so that when in community areas you can reach (and share) limited outlets.

Internet service on the resort is available, but can be very spotty, particularly with 30+ needy writers trying to use it all at once. Sometimes it comes and goes. And sometimes it's very slow.

There are no telephones in any of the rooms or cabins. There's a phone in the resort store for emergencies.

Cell phone service is spotty. (You really just wanted to write, didn't you!?)

There's a competition for biggest word count! Stretch those writing muscles ahead of time and join the fun.

Bring food and snacks with you. The resort has a great little store for those things you've forgotten (or run out of). Befriend a guest who has a cabin with a kitchen! You'll also be able to graze goodies in Cabin #6: There will always be fixings available for sandwiches and salads. Also: fruits, veggies, sodas, water, and snacks and desserts.

Cabin #6, the retreat office, has an open door policy, day and night. You can come in any time you like to grab a snack, or small meal, or update the word count board. Don't knock! Several writer discussions will happen here too, as well as a few group meals.

Bring cozy blankets. Bring a comfort item or two.

Don't forget the camera and/or video camera.

Bring extra money to spend at the resort gift shop (very reasonable prices!), as well as the restaurant. Support our friends at the Rain Forest Resort Village!

Think about bringing a backup USB stick so that all that hard work you've done isn't lost if the laptop hard drive fails. (Assuming you can't get enough WiFi to get to that Dropbox or Google Drive!)

When in the lounge writing, when it is not the normal business hours (4-9 pm), loud conversations are bad news. Take it outside or to the restaurant. We've had complaints before about this.

The lounge and restauraunt are open to the public during their normal business hours, so do realize that other guests and locals will be coming in there. If you can write during the hub-bub, no worries! The resort asks that you do not take up more than one table. If you're settled at a table in the lounge, do not leave your things there to go eat in the restaurant. Either pack that table up, or eat in the lounge at your table.

Because of state liquor laws, no alcohol from the outside can be in the lounge at any time, even after business hours.

Past participants: Email Patrick with other helpful tips you suggest that can be added here.


---